Very often, when designing a new home, we tend to focus on the aesthetic aspect rather than the practical one. It is always useful for the house to be made up of functional areas, while always keeping in mind the taste and desires of the owners in terms of style and aesthetics. Bringing the aesthetic aspect together with the practical one should be the soul of every project in order not to make mistakes to regret later.
During everyday life there are primary needs that transcend style and aesthetics, one of these is the laundry area, which must be designed intelligently to prevent the gestures to be performed in small spaces from becoming more difficult and harmful every day.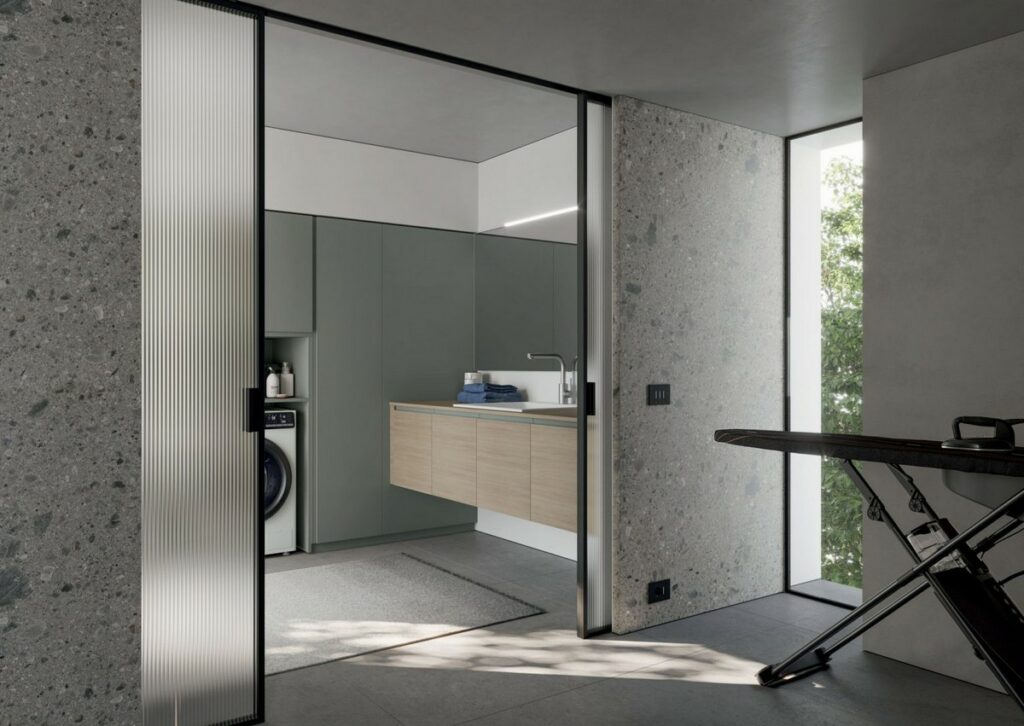 Creating a functional laundry area at home is a requirement that will allow you to experience domestic spaces in a more practical and tidy way. Whether large or small, the laundry area has only one imperative: perfect organisation to ensure maximum functionality.
An architect will be able to propose a project with attention to the smallest details, and will be able to obtain a laundry area, even from small spaces, in fact to insert a washing machine and a dryer, only 1.5 meters are needed. If space is limited, you can opt for a column unit, where the dryer and washing machine are placed one below the other. In this way the laundry area will develop vertically, in doing so the bathroom will be furnished in a refined but also practical way, in fact the tall unit allows you to obtain a laundry area, perfect for those who do not have much space and time available.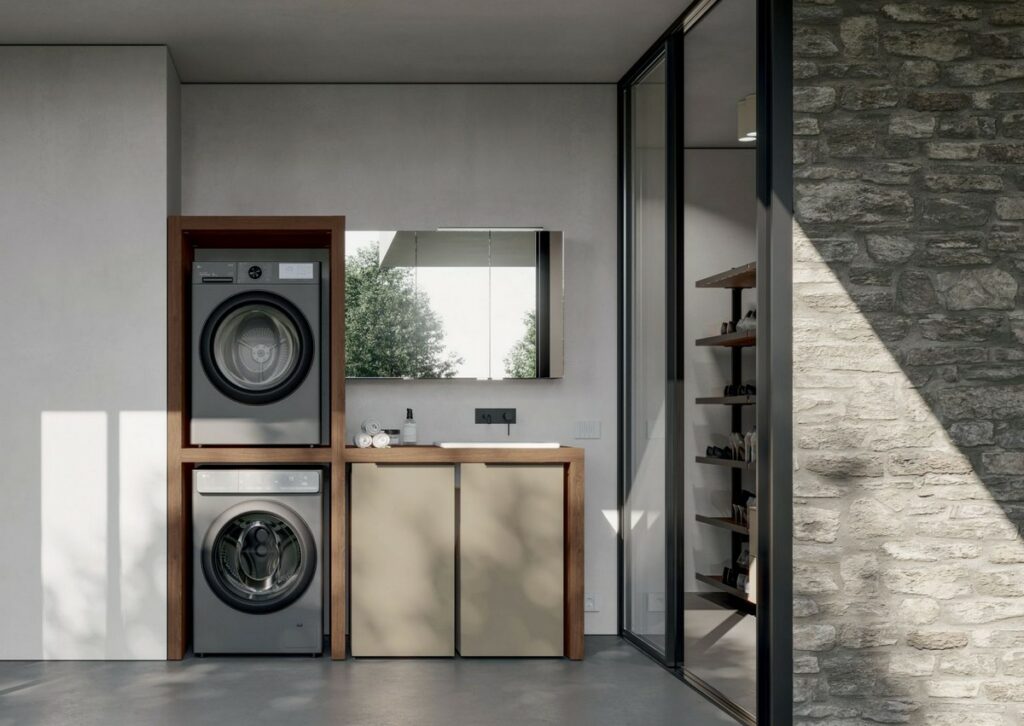 If, on the other hand, space permits, the washing machine and dryer can be placed side by side, optically creating perfect order and a support surface where you can also insert a sink, useful for pre-washing garments or for very delicate items. Today the sink is inserted more frequently and even if you have limited space and it is possible to insert it without neglecting the aesthetics, being able to choose between different captivating solutions, including marble, resin, ceramic or polypropylene. Generally the materials to choose from for the sink, the most elegant, as well as the most resistant remain ceramic, which also ensures excellent hygiene. The ceramic sink can also be combined with the remaining furniture, such as the laundry basket.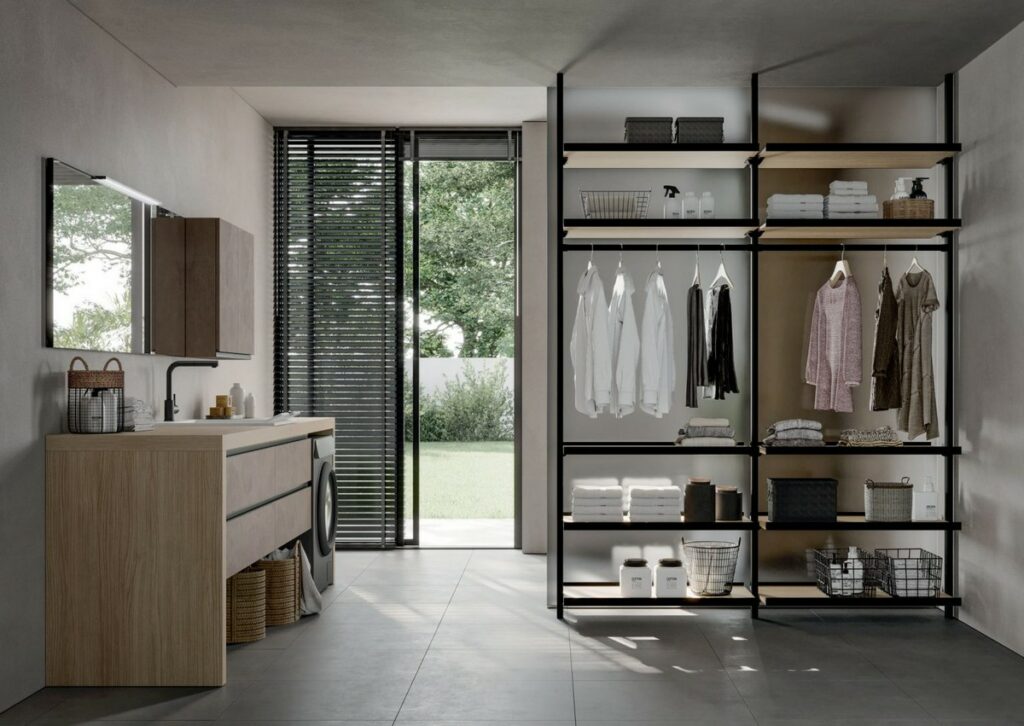 Ceramic and in particular porcelain stoneware is the most suitable choice for flooring and wall cladding in the laundry area. A porcelain stoneware tile, in addition to providing a resistant and stain-resistant support, can reproduce any surface, through the use of digital printing, and recreate an elegant marble, stone or parquet effect.
To save a little space, accessories such as shelves, wall units or columns should not be underestimated, which make the context more practical, allowing you to store detergents, soaps and sponges and hide them from view.
Even for the laundry room, the rule of choosing the most suitable materials applies, with stain-resistant surfaces and you can opt for PVC furniture that also provides a protective as well as aesthetic action.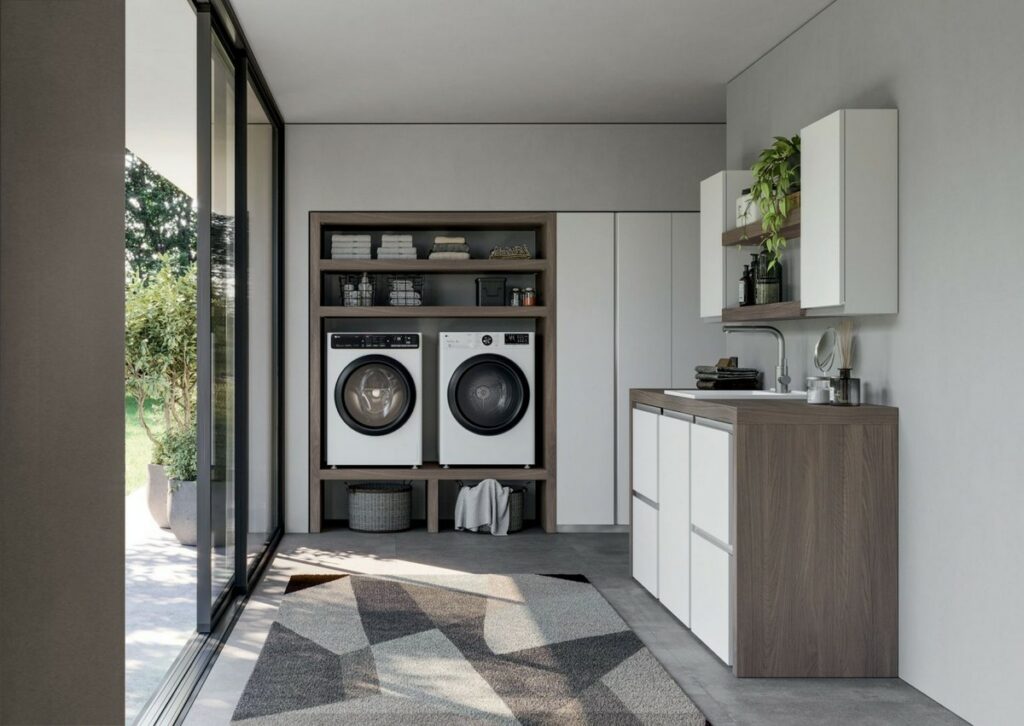 The wooden furniture gives warmth to the laundry area and is suitable for containing the sink or for containing soaps and detergents. A wooden structure, whether treated, enamelled or lacquered, also ensures solidity to the piece of furniture.
Follow us for further advice.